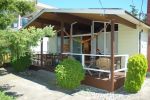 We update this summer vacation calendar, once we have a booking confirmation, usually with a deposit to secure the booking. If the dates you are interested in are not booked here, there is a good chance they are still available.
During the summer, we book by the week, from Sunday at 2pm to Sunday at 10am.
Birch Bay is a great place to spend your vacation. Spend a perfect relaxing week in our well equipped cabin, right next to the state park and by the beach. Enjoy walking along the beach, cycling around the bay, or canoeing along the creek and out into the bay. Watch exquisite sunsets on the water and see bald eagles soar. We feature pet friendly rentals.
Lots of fun to be had for all the family. Do you like cycling along by the beach? Perhaps you like canoeing or kayaking in the bay? Perhaps take a visit to the C-Shop for ice cream, or try crab fishing in the bay. Located not far from the border, for exciting day trips to Canada.