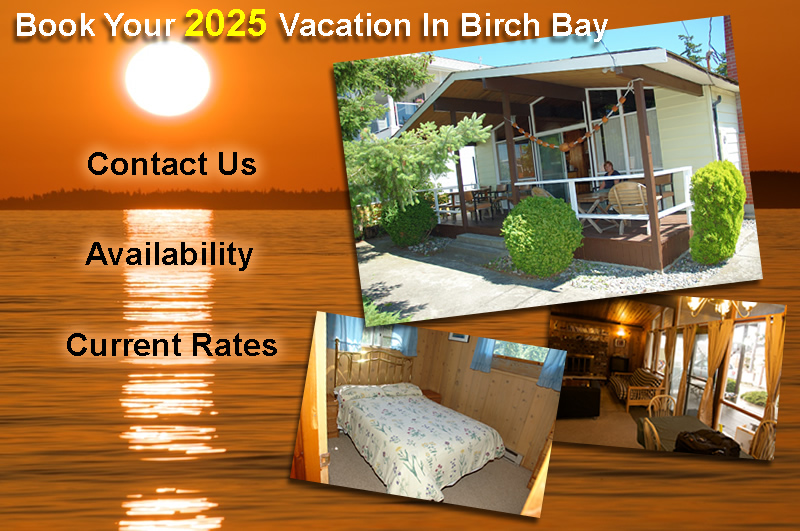 Birch Bay is a great place to spend your vacation. Spend a perfect relaxing week in our well equipped cabin, right next to the state park and by the beach. Enjoy walking along the beach, cycling around the bay, or canoeing along the creek and out into the bay. Watch exquisite sunsets on the water and see bald eagles soar.
Unique Cedar vacation cabin. Private, cozy, 2-bedroom and loft.
Breathe in the fresh sea air, take a long walk along the beach. Or just relax on the deck and enjoy a long cool beverage of your choice (beverage not included). A great place for kids too. Bring a small fishing pole, perhaps the kids will catch something in the creek out back.
Completely furnished:

Deck furniture, Propane BBQ

Private parking

2 Flatscreen TVs

Wireless internet

VCR/DVD

+ Small library of videos


Refrigerator

Microwave

Bed & Bath Linens

Fully equipped kitchen, with pots & pans, dishes & cutlery

Coffee maker, kettle, toaster


Assorted adult and children's bikes, scooters

2 Canoes, paddles & safety gear
Well this photo is taken from the front yard. You can see the mailbox lower left and over the road you can see the beach. We are also the last cabin before the state park. It takes less than a minute to cross the road and walk onto the beach.

Close to beach and several golf courses. Minutes away from the four diamond resort INN AT SEMIAHMOO. Nearby activities also include kyaking, go-carts, waterslides and horse back riding.

Bird watching is a big attraction!
Our cabin backs onto this creek, which is lots of fun for you to explore in your kayak. At high tide, you can make it all the way out to the bay. The creek is also a good place for less experienced kayakers, since it is not too deep and no waves.
If you like ocean kayaking, there is public access to the beach across the road. Less than a minute to get there.

Clam digging, Crabbing, Bike riding, walking, kayaking, Golfing, Boating. Water slides.
 
Birch Bay is a family recreational area located in the Northwest corner of Washington State. Just 30 minutes south of Vancouver, BC and 2 hours north of Seattle. Enjoy Birch Bay in the Spring, Fall or Winter and take advantage of off season rates.
Vacation Rental Rates (All US Funds)
(Please read carefully, to save asking questions later)
In Season Rates
In Season rates are from June through September and are
US $1500 per week.

Arrive Sunday, after 2pm, and leave by the following Sunday at 10am.
If more than 4 people, we charge an

extra fee of $50/person per week.
Off Season Rates
Off Season rates are October through May , and are
US $250 per night with a 2 night minimum, plus a $60 cleaning fee.

If more than 4 people, we charge an extra fee of $25/person per night.
Monthly rates are available.

Deposit
Deposit equal to ONE HALF lodging to secure reservation, must be paid in advance.
No post-dated cheques will be accepted. Only US$ will be accepted.
Birch Bay is the fastest growing area in Whatcom County, with a large tide flat of sand several square miles in size that bares itself at low tide, and as the water creeps back in over the hot sand it warms to bath water temperatures in the summer. It is the perfect place for a summer vacation, featuring pet friendly rentals. It has a large heron nesting areas, a large state park at the south end and outstanding birding throughout the year. Especially for seabirds and shorebirds (depending upon where they rest at night), it's classed by the Audubon Society as one of 50 Important Birding Areas (IBA's) in Washington State, along with nearby Blaine's Drayton Harbor.
Birch Bay has a rich history that goes back thousands of years, and in fact Captain George Vancouver landed in the Discovery in his Expedition in 1792 on Cottonwood Beach with his Muster that included Peter Puget (Sound), Joseph Whidbey ( Island) & Joseph Baker (Mt). Factual legend has it that Captain Vancouver stopped in Birch Bay during 1792 Expedition and the Admiralty used the Black Birch Trees and to brew beer, a common staple on the long voyage- they named Birch Bay after the same tree.