Birch Bay For Lovers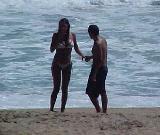 Although Birch Bay is great for families and all ages, it is also a great place for you to take your loved one for some special time away from it all. You are far away from the noises of traffic, so enjoy your summer vacation, and work is just a distant memory. Leave your cell phone switched off, and don't bother to bring your laptop.
You don't have to get up early in Birch Bay, just lying in bed together you will hear the occasional bird calls and perhaps the sound of the waves on the shore (depending on where your cabin is in location to the beach). Your only concern is spending time together in such a peaceful and tranquil setting.

The sunsets are particularly spectacular, and a romantic walk along the beach cannot be beat. I recommend sitting together with your back against one of the many logs, and watch the sunset. Take along a thermos flask with some hot chocolate, for after the sunset, and a blanket or two so you can cuddle and watch the glow in the sky that lasts long after the sun has set.
Another romantic activity is boating or kayaking along the creek, or in the bay. Take something nice to eat and share with your partner. Make a fun day out of it all. Quite a few of the birch bay cabin rentals back onto the Tyrell Creek, so you have easy access to launch a canoe or kayak.

If the weather is a little colder than usual, or perhaps late at night, take advantage of a fire. Some cabins have a fireplace, or if not there are some fire pits out on the beach which would be great for a romantic fireside evening. Bring along some marshmallows to roast, or other foods which would be interactive if you know what I mean.
All in all, Birch Bay has it all, and especially for lovers.
What are some of your favorite things to do at Birch Bay? Please enter your comments below:
Previous Comments
Awesome idea
Written by Paula on 2006-04-27 14:26:46
---
I like the poetry idea. I may try that with my sweetie too. I will bring a book cause he is not too good at writing stuff like that. We can take turns reading aloud. Folks will probably ignore us or think it is some kind of special event. Hmmm, perhaps we should dress in costume?
Poetry Reading
Written by Fred on 2006-04-27 14:24:48
---
How about if we start a new thing, reading love poems on the beach? I will have to either write or bring some love poems for the event, and I'll take my honey to the beach and read aloud for all to hear! That would be so neat... :)
More in Love
Written by 'Guest' on 2006-04-26 11:30:12
---
After a weekend of kayaking, having diner in front of a fire, walking and talking go home even more in love.
Call the local radio station
Written by Dave on 2006-04-25 16:35:58
---
Call the local radio station and ask them to dedicate a song to your loved one. Try these two in the Birch Bay area: 
KAFE http://www.kafe.com/ 104.3 FM Soft Rock,  
KISM http://www.kism.com/ 92.9 Classic Rock
Hearts
Written by Terry on 2006-04-24 16:18:40
---
I like to collect shells and pebbles, then I make hearts on the ground all over the place. Sometimes I spell out our first initials either side of the heart. My partner is always guessing where they will see the next heart.
Reading
Written by Sarah on 2006-04-24 16:10:21
---
I like that it is so quiet there, and I like to keep it simple and relaxing. On an evening by the fire, get a book to read together. Read silently or take turns, reading passages to each other. Prepare some snacks and beverages and you have an evening. 
Romantic Kite Flying
Written by Randy on 2006-04-24 16:07:43
---
For me, Birch Bay has the best kite flying. so buy a kite and fly it together. Write your names across the kite and watch it soar!
Don't forget horseback riding
Written by Sue on 2006-04-20 17:50:28
---
As a teen, I remember going on vacation with my best friend's family to the Bay. At that time there were horses for rent. We would go riding almost every day. I think back now, and I am sure it was more about the stable boys than the horses.
Camping at Birch Bay State Park
Written by Leorex on 2006-04-20 17:46:41
---
I took a spur-of-the-moment trip to go camping with friends at Birch Bay State Park last summer. It was pretty low key and we got lucky with the weather--it was absolutely gorgeous there on Saturday.
Several really great beach side coffees
Written by 'Guest' on 2006-04-20 17:54:27
---
I like to bike ride along the beach looking at the ocean and breathing in the fresh air.
Do they have expresso?
Written by Dave on 2006-04-19 13:50:09
---
I like to sit at a coffee shop and talk, and perhaps do some people watching. Are there places in Birch Bay for that? 
Walking is great
Written by Sally on 2006-04-19 13:48:16
---
I like walking there. It is not too hilly, you can walk around the bay in an hour or so. Holding hands and talking and just taking in the atmosphere is great. The beach is sandy in some areas and pebbles in others, so you need shoes/sandals. Oh, and take some bottled water so you don't dehydrate. Have fun!